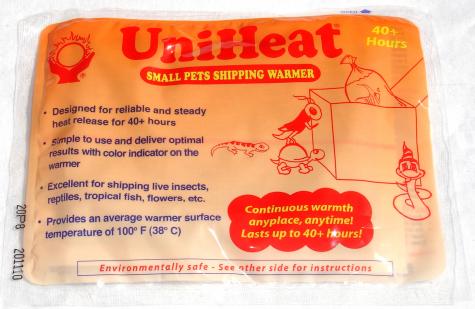 Bundle & Save!
Add these frequently bought together items and save even more!
No bearded dragon owner wants to open their package to find a bunch of dead roaches inside. During these colder months, keep your Dubia roaches alive and warm en route with one of our heat packs. We'll include it as we pack your roaches, and they will arrive nice and toasty for your bearded dragon's optimal nutrition.  
Currently, we only offer LAG (live arrival guarantee) if you order this heat pack with your roaches and mark "hold for pickup" in the order comments. Including this heat pack in your order is the only way to ensure your roaches will stay warm enough to arrive live at your doorstep.
This heat pack: 
Lasts up to 40 hours, giving you almost two days' worth of heat and protection

Will not overheat, providing ideal warmth for your roaches

Fits nicely in your package, so you don't have to pay for extra shipping
Add one to your order today. Your reptile will thank you! 
...Although your roaches might not. They're ending up dead either way...

Nutrition your dragon needs

Our roaches are carefully bred in
a stress-free environment. Each
roach is fed a well-balanced diet
consisting of fruit and veggies
and are full of essential nutrients.

Feed your predator's wild side

Your Dragon is a natural born
predator. Feeding your Dragon
live Dubia Roaches makes
mealtime an experience they'll
be looking forward to each day.

100% Satisfaction guarantee

You and your Dragon's
satisfaction are everything to us.
We take extreme care to ensure
safe and timely delivery but if
you are not happy with your
order, we will make it right.
Period.